Having a website is a must for all businesses of any type these days. Even if the business is carried out offline, like a car yard, a website is absolutely needed, as the people's intention to look for their needs online is on a rising trend. As such, it is mandatory for you as a business owner to build a very well-designed website for your business.
If you are thinking of doing your web design in UAE, read this article to the end, to avoid the common mistakes that might occur.
Common website design mistakes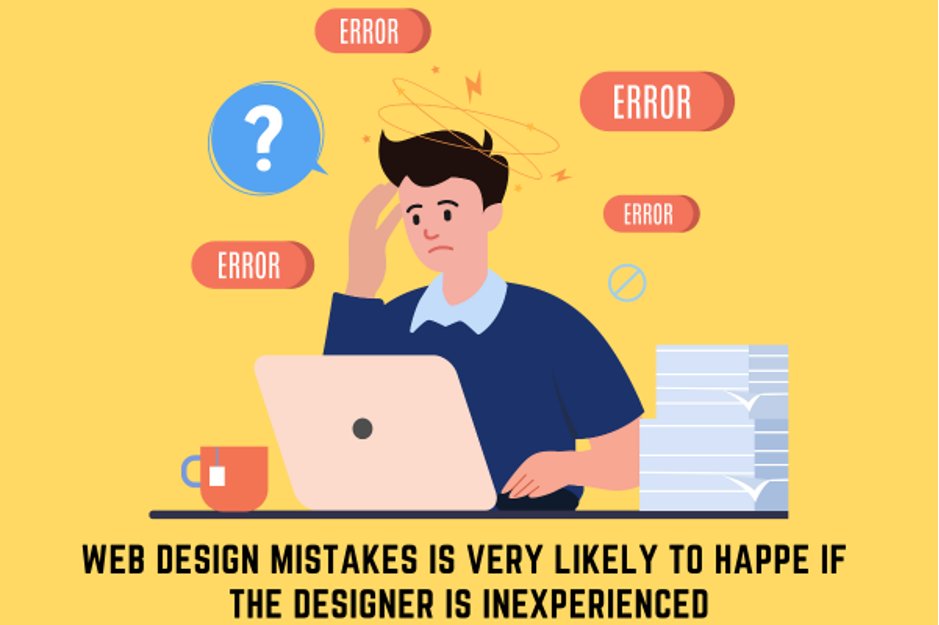 It happens frequently that a business owner thinks about designing his own website by watching some online courses and educational videos on Youtube to save some money. That's the same thing here in Dubai, as the web design Dubai price, if comes from a reputable company, can be a bit high for some small businesses. In such instances, it is very likely that the outcome doesn't meet your expectation due to several mistakes in designing your website. Let's go through the most common mistakes that happen when your website is not designed by an experienced designer.
1. No or Poor SEO plan beforehand is a key mistake in web design
It is a common mistake that occurs frequently, where people think to begin a website first and then go for a SEO plan. That is not how it works. Your website must be designed based on your SEO strategy and plan, so it will be married up with your SEO plan, once the design is completed.
2. Outdated design kills an online business if utilized for designing a website
The design trend changes over time, A particular design that was very popular 10 years ago, looks very unprofessional today. If an outdated design that doesn't sit under the market trend is utilized, your website would look unprofessional and untrustworthy.
3. Confusing Call-To-Action increase a website's bounce rate
CTA buttons are where a website conversion comes to execution. Whether they are not placed in the right position, or they are not specified clearly to be conveniently understandable by users, your website doesn't convert much.
4. Slow Loading Website damages website credibility
A slow loading website would take users away from your website and they would most probably never come back again. There are many reasons for a website to be loaded slowly such as heavy visual content, No CDN, many css and java script and alot more.
5. No responsive design leads to less session duration and less conversion rate
With the rapid growth of people who use their mobile phones to surf online, a website that doesn't display on mobile screens properly, loses a lot of traffic. On top of that, a website that doesn't scale well on any screen size, doesn't look credible and trustworthy.
6. Missing to provide strong a search tool is an important mistake to design a user friendly website
Internet users are not tolerant enough to navigate through the entire website to find something they are after. As such, failing to provide a strong search tool would damage your conversion rate and more importantly your website reputation.
7. Low Security takes users away
A website with a low level of security is the last thing internet users want to navigate through. If your design looks great but no SSL certificate in place, very few visitors might be surfing through your website. With no SSl certificate, almost no user provides sensitive information like banking details.
8. Poor Content damages a website trustworthiness
Quality content plays an important role to attract visitors and keep them on your website. Failing to publish quality content in a reasonable time frame that is relevant to your business and responds to the major questions visitors may have, is another mistake that is made by many website owners frequently.
9. Complicated Navigation in web design leads to less traffic
Making the navigation menu hard to find or no appropriate visual hierarchy for your navigation bar would kill your website. Internet users are after convenience these days. If they fail to understand how to navigate your website within a few seconds, they will leave and never come back.
10. Cluttered website design decreases conversion rate
Overloading website visitors by cluttered web design is another mistake that makes users abandon the website. Ads, Popu-ups and auto-playing videos must be avoided as much as possible, otherwise, you will lose a lot of potential customers.
Summary
The design and visual appearance of your website is the most important factor that affects your conversion rate. Even though it sounds easy to design a website, lots of knowledge and more importantly a good level of market experience is needed to design a shining website. We would like to recommend working with a professional digital service provider to rest assured of the quality of your website.
One of the best companies of its kind is Websima DMCC. Websima has made a proven track record of success by delivering quality projects to a wide range of clients across the UAE and international market. Contact Websima with confidence, if you are planning to build your own website. They will get back to you with a solution that suits your needs best.